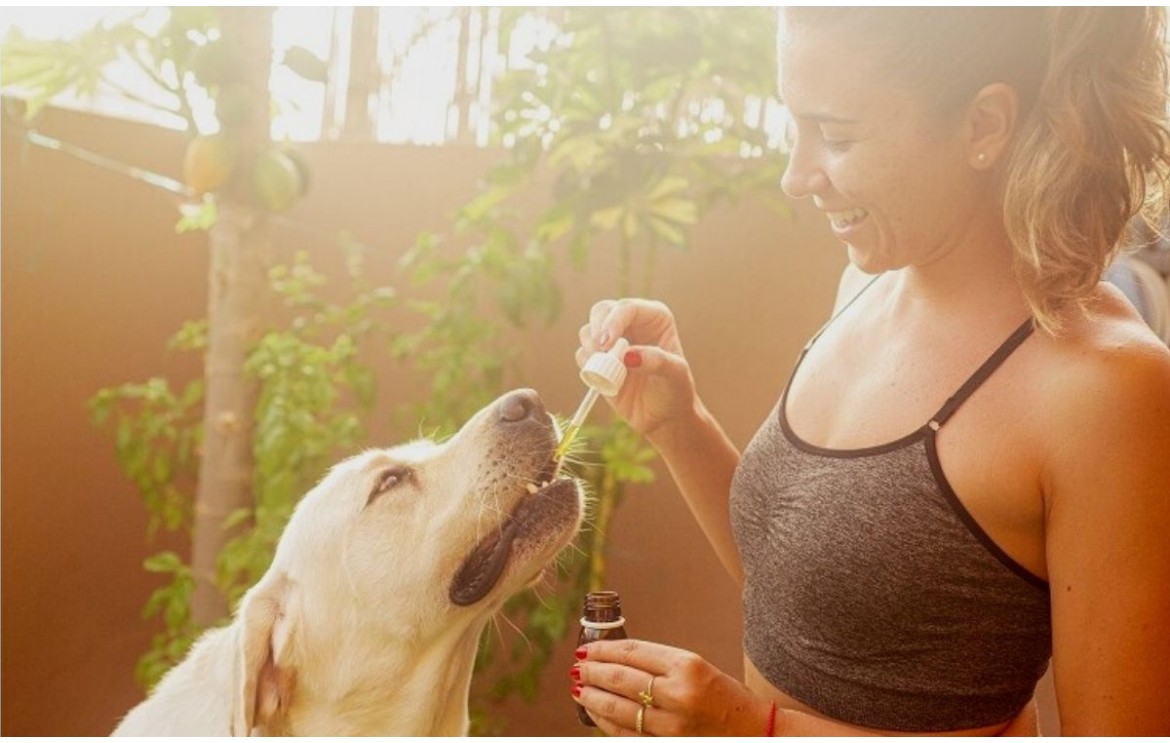 CBD Oil For Pets
If you are looking for ways to improve the daily life of your little friends but you are not sure if you should include CBD in their diet, we are here to help!
Sharing the same lovely feeling with you regarding our pets we strive for the best. Thus all the production processes as well as the raw materials we use in our CBD OIL for pets are the same to those we use for CBD oils for human consumption. Thus, our CBD oil for pets originates from Greek organic farms in which no chemical pesticides are used, while each batch is thoroughly tested by independent external laboratories in order to ensure the highest quality and the absence of harmful substances.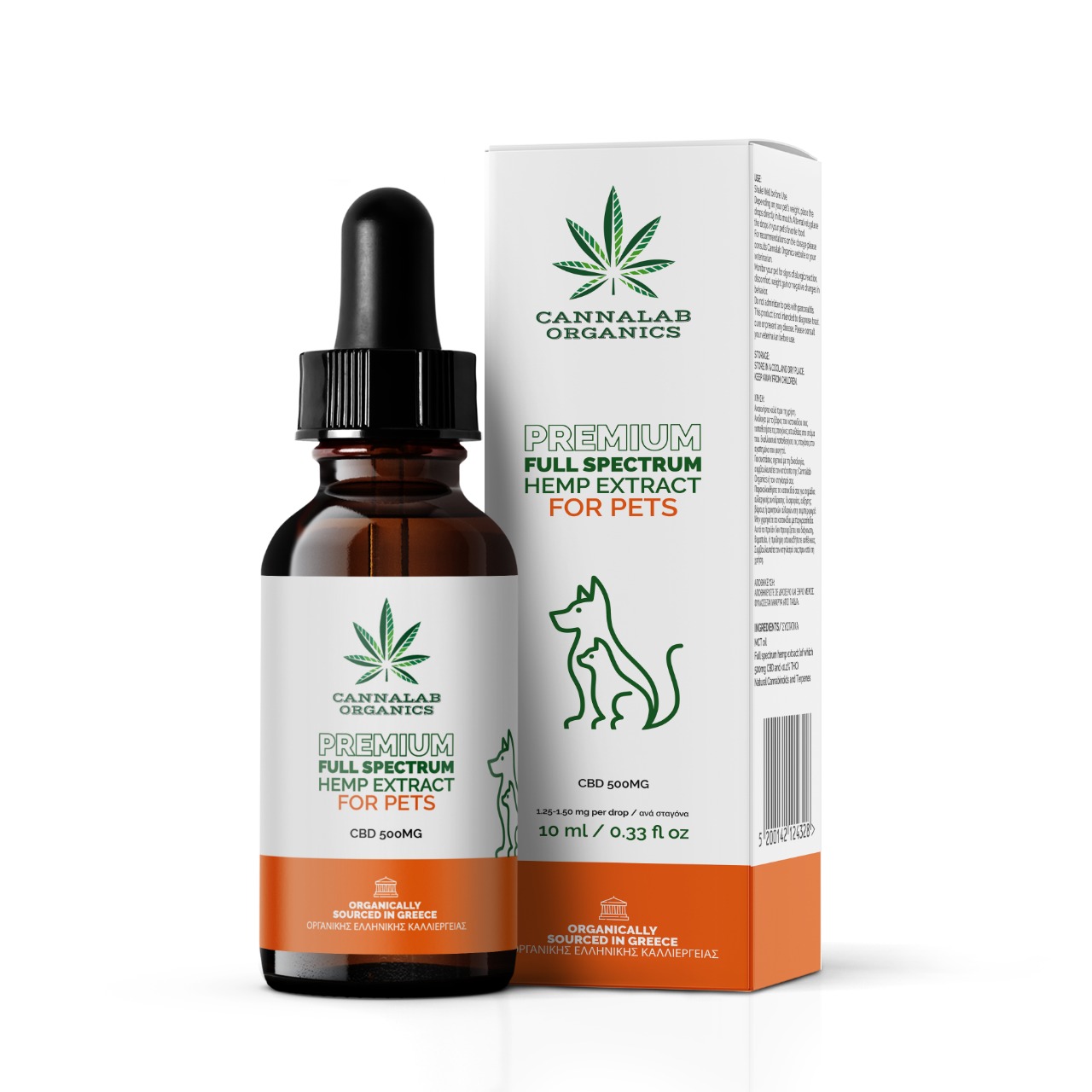 In the following text we will try to analyse the benefits of CBD for pets as they have been observed by the owners, the methods of administration, factors that you must take into account as well as answer frequently asked questions as we receive them from time to time.
It should be clarified that the following guide is indicative and should be treated only as an introduction to administering CBD to animals. Please contact your veterinarian before starting administration. He will be able to give you specific directions, tailored to the exact needs of your pet in terms of administration.
Depended on whether you want to try CBD oil for anxiety, epilepsy or chronic pain relief, the right dose can vary greatly from one condition to another.
But let's look in more detail all the questions that may arise when you consider administering CBD to your pet.
What are the benefits of CBD for my pet?
CBD is a natural cannabinoid derived from the cannabis plant. As in humans, the same way with animals, scientific studies in an early stage show that interacting with cannabinoid receptors (which are naturally present in the bodies of all mammals) can have a positive effect in a range of functions such as stress, sleep, hormone regulation, metabolism and more.
In the case of animals, the use of CBD is quite popular among owners seeking to reduce stress or improve the quality of life of older animals. The main goal is to maintain a calm and relaxed mood, a healthy mobility of the joints as well as recovery from difficult surgeries.
In summary, although scientific studies are still in the experimental stage, pet owners are pursuing the following benefits:
• Improving the physical and mental well-being of pets.
• Relaxation in animals with nervousness, hyperactivity, nausea, fear of noise, loss of appetite, digestive problems, epilepsy and insomnia.
• Improvement of symptoms related to arthritis and chronic muscle pain.
• Providing nutrients that help the health of old animals.
What is the difference between Hemp Seed Oil and CBD Oil?
As there is a lot of confusion around cannabis based products we will try to provide you with a better insight about these products.
CBD is present in the flower and leaves of the cannabis plant.  The European Commision has provided a list with the strains of cannabis plants that are allowed to be cultivated around Europe. The basic characteristic of this plants is their low content  % of THC, the psychoactive substance found in the cannabis plant.
Cannalab Organics CBD oils are extracted from the Futura 75 variety, an approved from the European Union cannabis variety with concentration of THC less than 0,2%. The seeds are  purchased with all the necessary certificates, are grown organically and are subject to all necessary state controls during cultivation.
When buying CBD products, you should always check its THC content, which should always be below the 0.2% THC limit, which is low enough not to cause any psychoactive effects.
A second thing to look out for is buying CBD Hemp Extract vs. Hemp Seed Oil. Hemp Seed Oil originates from the seeds of the plant and although this oil is an excellent source of omega-3 and omega-6 fats, it does not contain cannabinoids.
Unfortunately, as the relevant market regulation is incomplete, several labels do not adequately identify the origin or content of CBD. Thus, many people are often mislead into buying products that do not contain any CBD.
Look for the laboratory tests of the CBD oils to make sure it contains the CBD content it mentions and that it is free from possible contamination. It is best to avoid buying from companies without certificates.
By clicking HERE you can find the relevant  Certificates of Analysis  for the Cannalab Organics CBD oils.
Additional Ingredients You Should Know About
Not all CBD pet products are manufactured with quality and safety in mind. When it comes to CBD oil labels, you should look for two to three ingredients:
CBD extract
Base oil (coconut oil, hemp oil, olive oil)
Natural flavors
CBD pet oils from Cannalab Organics contain CBD extract and we use coconut oil as the base oil.
How Much CBD Oil Should I Give My Pet?
Proper CBD dosing is important as your pet is not be able to tell you verbally that something is going wrong. Especially if this is your first time trying out CBD oil, you should be aware of any signs of an allergic reaction or discomfort.
As each animal's body functions differently and dosing needs may vary, please consult your veterinarian about the method of administration.
Indicatively, depending on the weight of your animal and the condition you want to treat, we recommend from 0.25mg to 1mg / kg, gradually increasing the dosage by 2.5 mg until you reach the desired results.
Cannalab Organics CBD oil contains approximately 2.5mg CBD per drop
So the calculation method for a pet that weighs 5kg is:
0.50mg x 5 kg = 2.5mg CBD or about 1-2 drops
As with humans, it is best to start with a low dose which that you will gradually increase.
Although CBD has no psychoactive or addictive properties, please be very careful when administering. In some animals it can cause drowsiness, allergic reaction, itching, discomfort, weight gain or negative behavioural changes.
As it can cause a dry mouth, make sure you always have fresh water available.
Avoid administration to pets with pancreatitis.
How do I administer CBD to my pet?
Giving CBD to your pet can be a small challenge. Fortunately there are options.
One method is to place the drops directly in its mouth as this way the liquid is absorb directly through the mucous membrane. If you choose this method you must be very careful and administer the drops away from his teeth for safety reasons as the dropper may break.
The second method is to place the drops over its favourite food or delicacies.
How long does it take for the CBD to work?
How quickly CBD will work relates to factors such as age, weight, general health and activity levels.
Equally important is the method of administration you have chosen.
Thus, for example, sublingual administration is, as for humans, the fastest way to get the effect, while administration through food may take up to 45 minutes until the first results.
As mentioned above, the effect of CBD can vary from animal to animal. This is why you should always start with the lowest possible dose of CBD and increase it gradually, while monitoring the animal's behaviour until you achieve the desired results.
In some cases the results can be seen from the very first hour while in some cases it may take 3 to 7 days.
Consistency and the right dosage are the most important factors to success.
As CBD interacts with the endocannabinoid system (regulator of basic bodily functions), it may take some time for the body to adapt.
CBD administration aims to support endocannabinoid receptors, as key support mechanisms of the operating system, contributing to your pet's well-being on a consistent basis.
What makes CBD a good choice?
Although research into CBD is currently at an early stage, owners and veterinarians are quite optimistic for the following reasons.
1.SECURE INGREDIENT
The most trusted organizations in the world including the WHO (World Health Organization) considers CBD a safe substance. As an ingredient it is well tolerated even in high doses, while it has very mild side effects.
2. EFFICIENCY
Although research into CBD for pets is at a very early stage, early studies and several owners indicate very promising results.
A recent double-blind clinical study from Cornell University sought to determine the safety and efficacy of CBD in dogs and the results favored CBD as an effective alternative for improving quality of life.
3. NATURAL PRODUCT
Unlike chemical substances used to help pets relieve pain or other illnesses, CBD is a 100% natural product.
Frequently Asked Questions:
-Will administering CBD have a psychoactive effect on my pet?
No. The THC % is very low to cause any change in behavior. However, CBD affects each animal differently, helping to balance mood and relaxation.
­
-Is there a risk of CBD overdose?
CBD is a natural compound, well tolerated in both humans and pets evenly in high doses.
Although there is still no scientific data on the side effects of using CBD in animals, there is some data on how it can affect humans.
In cases of high doses it has been observed that it can cause
- Sleepiness.
- Slight upset in the stomach.
- Dry mouth so make sure you always have fresh water available.
- Reduced blood pressure
- Feeling of mild headache
-If my pet is already taking medication, can I try administering CBD?
We recommend that you contact your veterinarian both before adding CBD to your pet's diet as well as if your pet is already under medication.
-How often can I administer CBD?
As often as needed
CBD works best when used consistently. Be sure to monitor the animal's behavior closely and avoid administering large doses at intervals of less than 12 hours.
Conclusion
High quality CBD oil can be a powerful tool for our furry friends.
CBD oil is generally considered safe for animals and can be quite effective for some common ailments, helping your pet live a happier and more comfortable life.
The best way to determine the right dose of CBD is to calculate by weight. As with humans, finding the right dose takes time and some experimentation. It is best to start with a low dosage, gradually increasing, closely monitoring your pet's mood swings and appetite.
The benefits of using CBD may take some time to become visible as the animal's endocannabinoid system adjusts to the dosage, so consistency is key.
Before starting CBD or if you are already on any medication please contact your veterinarian first. Do not exceed the recommended dosages and take care of the safety of the animal.
This article contains product promotion. It should not be taken as medical guidance and does not contain medical claims. Please consult your veterinarian before use. The product promoted is not intended for the diagnosis, treatment or prevention of any disease.
Cannalab Organics Diary
Discover the world of wellness and natural skincare. Welcome to Cannalab Organics