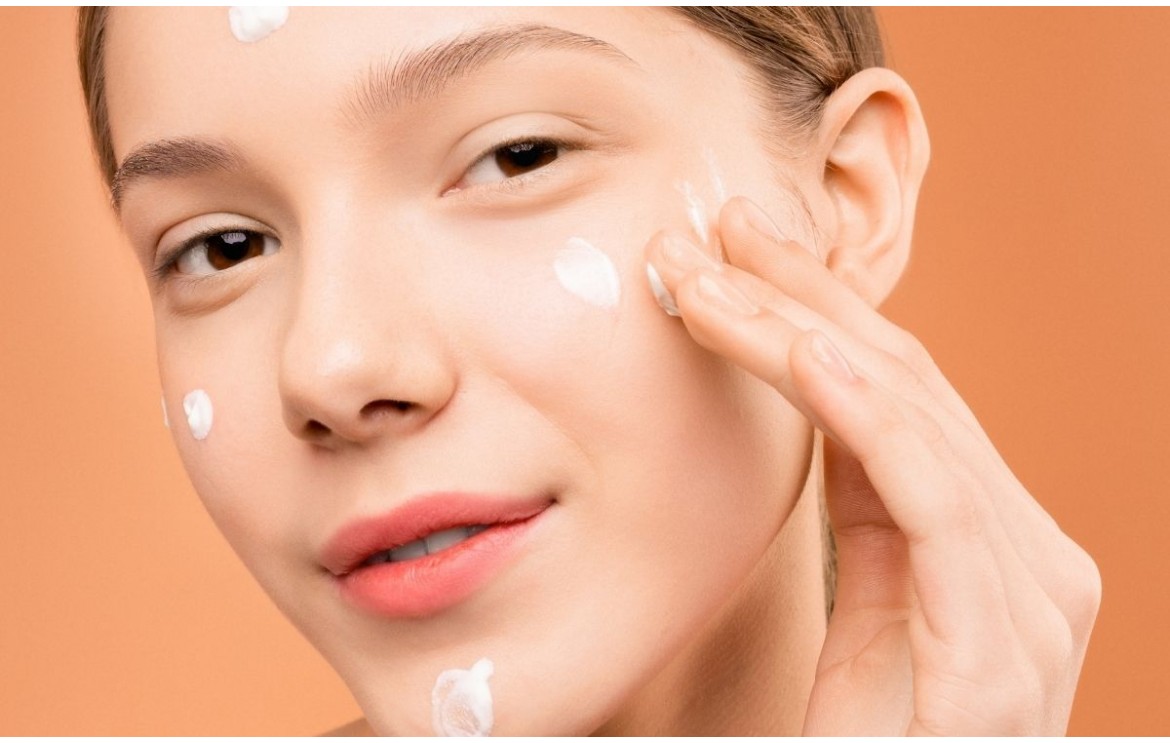 What is Hyaluronic Acid? What is Retinol? What do they do to the skin and how do they contribute to the anti-aging of the face?
What is hyaluronic acid and what is retinol? How do they contribute to the anti-aging of the face? Can I trust them and what should I watch out for?
Get ready because Cannalab Organics is about to answer all your questions.
What is hyaluronic acid?
Hyaluronic acid is naturally present in our body and especially in our skin - at a rate of about 56% - and contributes to its firm and youthful appearance.
Over the years, however, our natural production of hyaluronic acid decreases resulting in the formation of wrinkles, the reduction of lip volume as well as the appearance of a tired and sad face.
In fact, it has been proven that by the age of 45 our body's hyaluronic acid content can be reduced by up to half.
However, every day our body naturally replaces 1/3 of the amount of hyaluronic acid produced.
In addition to deeply hydrating the skin, hyaluronic acid also plays an important role in its regeneration - healing, transporting proteins and maintaining a healthy skin appearance.
 

But what exactly does hyaluronic acid do to our face?
✅ Offers deep and essential hydration.
✅ Contributes to the elasticity of the skin.
✅ Stimulates the regeneration of new cells.
✅ Helps smooth out wrinkles and creases.
✅Delays the signs of aging.
✅ It has a positive effect on irritations and eczema.
What is Retinol?
Retinol is a powerful antioxidant, active derivative of Vitamin A that in combination with hyaluronic acid becomes the ideal ally for skin care. It has the property of stimulating cellular activity, accelerating the recycling of cells, effectively exfoliating the skin from the inside out. Due to this exfoliating property, the skin can become hypersensitive and photosensitive. For this reason it is recommended to use retinol creams in combination with a strong sunscreen if you plan to be away from home during morning hours.
 

But what exactly does retinol do to our face?
✅ Stimulates cellular activity, essentially accelerating cell recycling.
✅ Regulates the oiliness of the skin.
✅ Neutralizes dark spots.
✅ Improves shine and texture.
✅ Releases resources.
✅ Prevents the formation of wrinkles by reversing the signs of aging.
The Ideal Combination of Anti-Aging properties and Hydration in a face cream
An innovative Anti-aging Face Cream with Organic Hemp Oil, CBD, Hyaluronic and Retinol
Discover Cannalab Organic's Multiactve Anti-Aging Cream With Organic Hemp Seed Oil, CBD, Hyaluronic, Retinol and Vitamin E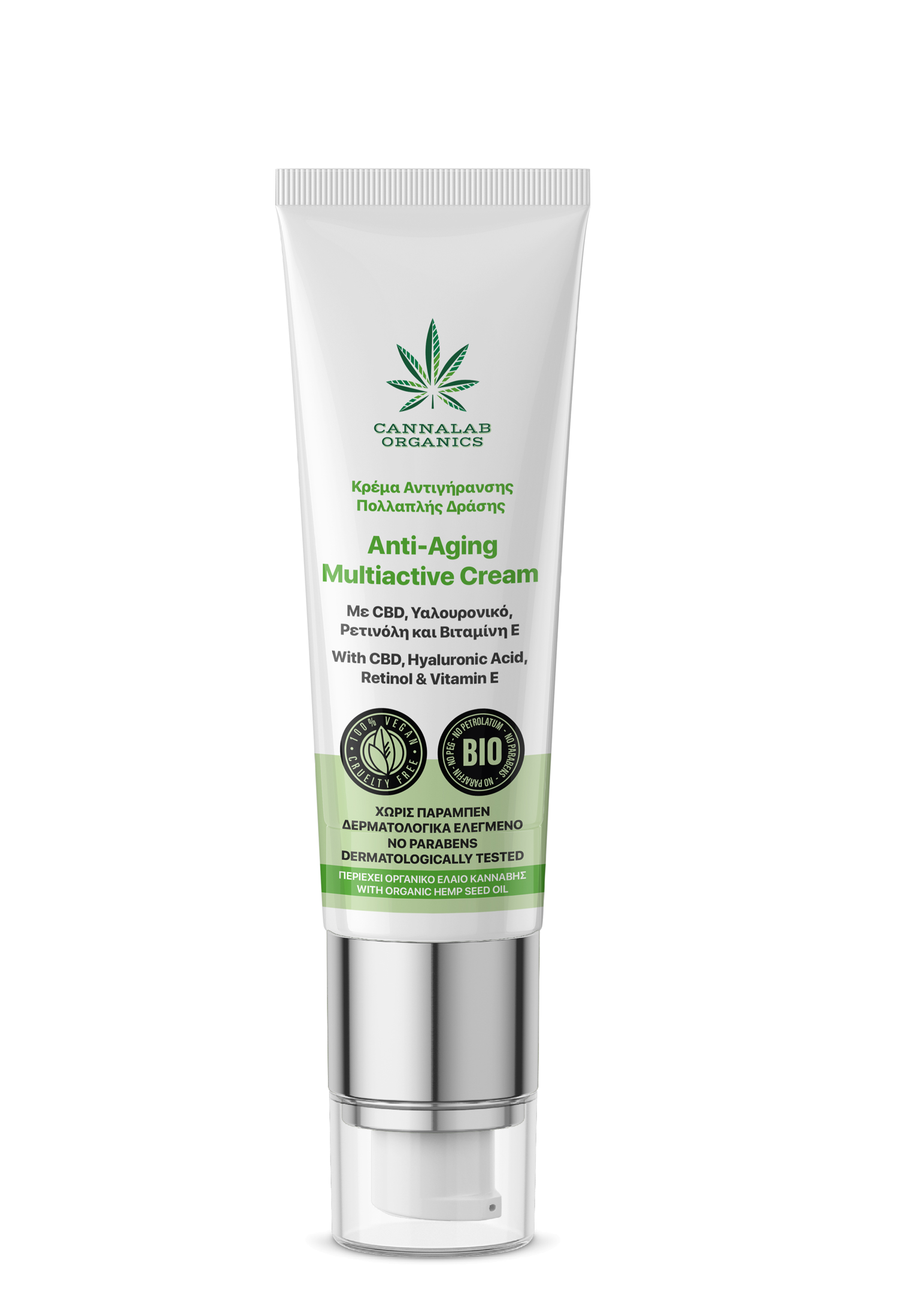 The multi-active all natural anti-aging face cream from Cannalab Organics with Organic Hemp Seed Oi, Hyaluronic Acid, Retinol, CBD and Vitamin E reverses the signs of aging, rejuvenates the skin and restores its lost radiance.
With a revolutionary formula and based on the natural restorative properties of cannabis, it is absorbed quickly and in depth for results immediately visible.
Why choose a cream with Hemp Oil and CBD
As retinol and hyaluronic acid penetrate the skin, cannabidiol (CBD) and hemp oil provide an extra layer of protection. Rich in antioxidants, vitamins (B6 and E), minerals (calcium, potassium, magnesium, copper and folic acid) and essential amino acids it ensures rejuvenation, hydration and proper in depth nutrition. With lipid profiles similar to that of the skin, they help the skin to regain its natural radiance and elasticity.
But what exactly does cannabidiol (CBD) and Hemp Oil do to our face
✅ They contain compounds that reduce oxidative stress by fighting wrinkles and fine lines.
✅ They stimulate the skin.
✅ Visibly improve the elasticity and firmness of the skin.
✅ Retain moisture.
✅ Increase collagen production.
✅ They fight the dullness of the skin by restoring its natural radiance.
What does Vitamin E do to our face
Vitamin E refers to a set of eight different compounds, all of which are fat-soluble antioxidants, i.e. they dissolve in the presence of fat. The role of antioxidants is to protect our cells from free radicals and unfortunately if we think about our daily exposure to air pollution and sunlight, one will quickly understand the cause of premature skin aging. As a key ingredient in our Multiactive Anti-Aging Cream, it offers an additional source of skin hydration and a valuable ally in the fight against free radicals.
As a company with a great respect for your skin, the environment and the animals, the natural beauty products of Cannalab Organics are certified as Eco-Bio..
We track the natural origin of each of the ingredients used in our formulations, we never test on animals and only use recyclable packaging for all our products.
With hemp as the predominant ingredient, we highlight the secret powers hidden in everything purely natural such as essential oils, vegetable extracts, fruits and herbs.
With the power of nature we create exceptional products of superior quality.
Discover the rejuvenating power of Cannabis and CBD on your skin.
Discover Cannalab Organics.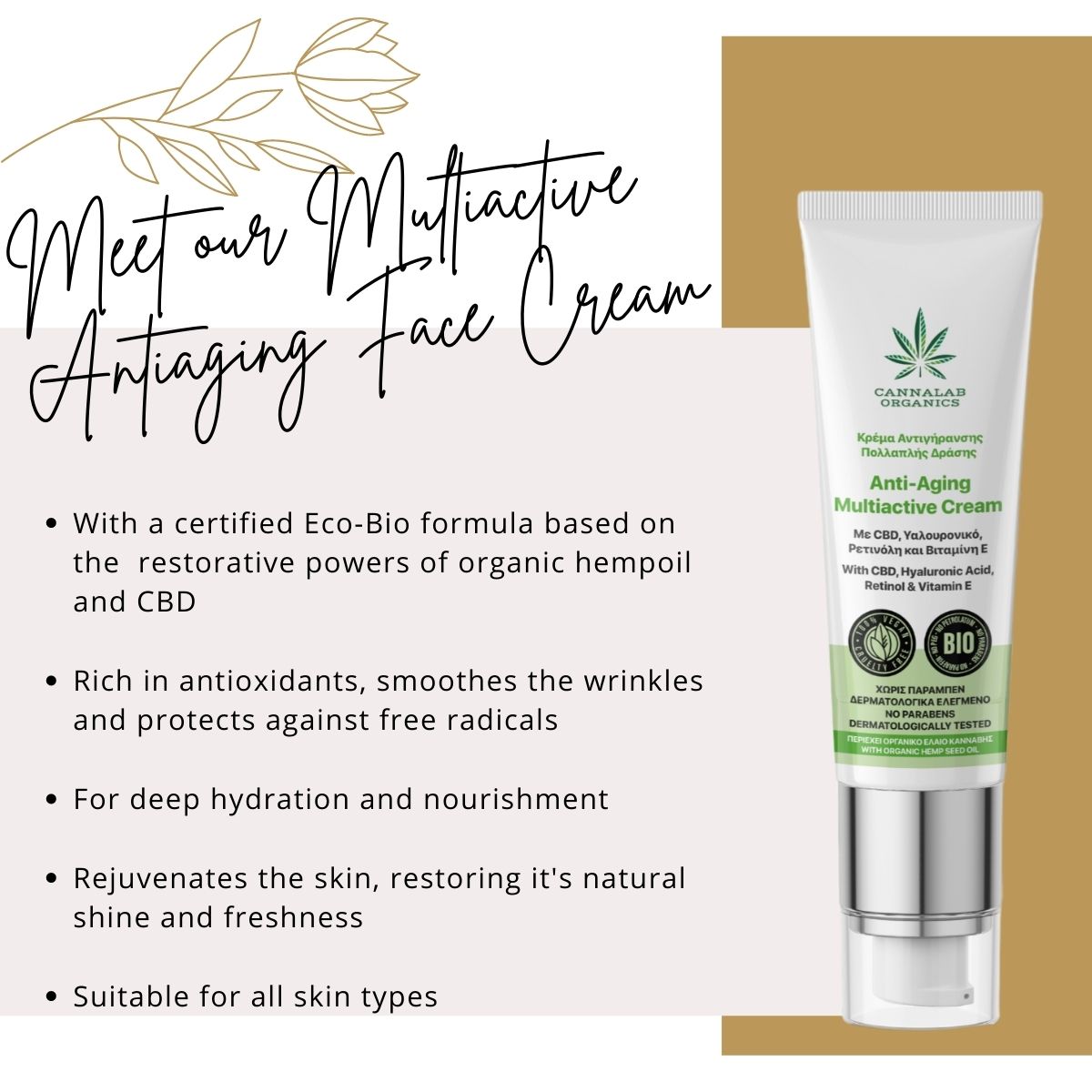 To see Cannalab Organics Multiactive Antiaging Face Cream please click here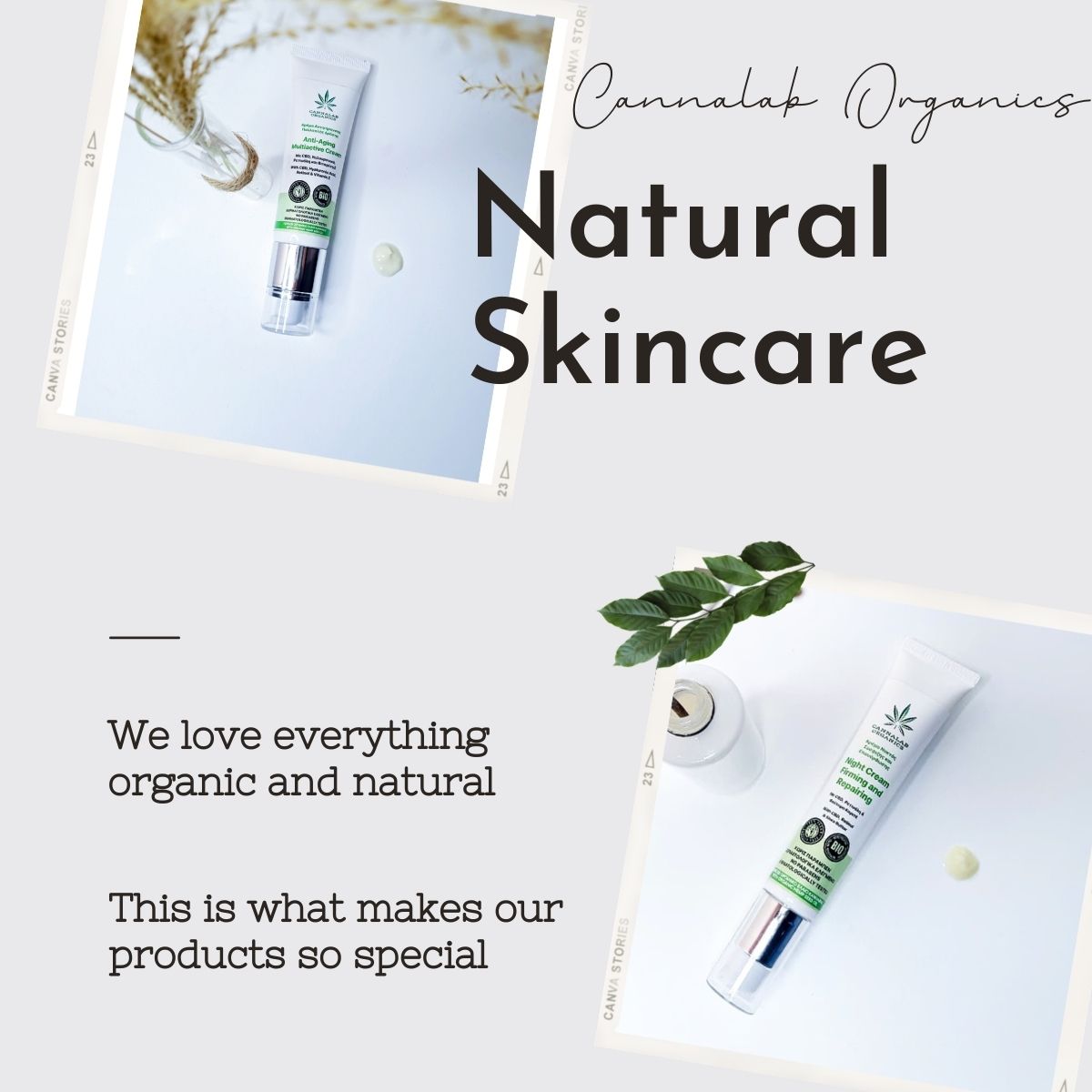 For our complete skincare product range please click here
Cannalab Organics Diary
Discover the world of wellness and natural skincare. Welcome to Cannalab Organics